Online Dental Education Library
This section of our Web site will provide our patients with information they can use before and after their treatment. Right now, if you have a dental emergency or oral concern, review our suggestions and then call us at 908-874-4555. After hours emergency phone numbers are available on our phone system.
When Dental Emergencies and other oral problems occur...
Smiling, kissing, and eating... These are some of the wonderful things for which we need our mouths and teeth! Of course, keeping our mouths and teeth clean and healthy is a major concern, but emergencies can arise. Here are some first aid tips to use before you can get some relief from your DENTIST!
TOOTHACHE HELP
Hopefully this won't ever happen to you, but if it does follow these tips:
Call your dentist as soon as possible for an appointment.
Apply oil of cloves to the affected tooth. You can ask you pharmacist for this.
Apply ice to the affected area.
Take aspirin or an aspirin substitute to ease the pain.
The best treatment is to let your dentist help you right away. Teeth don't heal themselves. Sometimes a person will have a toothache for 2-3 days and it will "go-away". Don't be fooled! The problem is still there. Remember seeing your dentist early can prevent pain, expense and maybe tooth loss!
LOST FILLING?
See your dentist as soon as you can. Why? The soft inner part of the tooth exposed when a filling is lost can decay quickly! If you can't see a dentist right away, be sure to keep the tooth super clean. If pain should develop, try some aspirin or an aspirin substitute until you see your dentist.
OOPS - A BROKEN TOOTH!
Most often, a broken tooth is a result of a blow to the face or from chomping on especially hard foods. If you happen to break a tooth, don't panic! See a dentist as soon as possible and if the tooth hurts, take some aspirin or an aspirin substitute. Hot or cold foods and drinks can aggravate the tooth so do avoid them. A broken tooth can be scary and even embarrassing! Get to a dentist quickly.
WHAT'S CAUSING THE SWELLING?
Swelling can mean many things. Usually, it means a nasty infection. Immediate professional attention is very important. Call your dentist right away!
OUCH - A DENTURE SORE SPOT!
Your dentist can usually relieve the cause of irritation quite easily. Adjustments after fitting dentures are very common! Until then, a little Ora-base applied to the spot will serve as a bandage if the area is really sore. If your dentures are old and loose, for your sake, don't try to reline them yourself or use denture adhesives. This can make matters worse, so see your dentist for any denture problem!
OH NO, YOUR CROWN (OR BRIDGE) FELL OFF!
First, check the crown or bridge to see if it's in one piece. If it is, place a thin coat of petroleum jelly inside the crown or bridge. Then, carefully press it back in place. It is important to keep the teeth in their proper position by replacing the crown or bridge immediately. Do not chew on the replaced crown or bridges as it may come off again. This is only a temporary solution. Be sure to call your dentist as soon as you can to have the crown or bridge examined and re-cemented.
DO YOU HAVE PAIN AROUND YOUR JAW JOINT?
This pain is often related to your teeth. If you are bothered by jaw joint pain, try these temporary solutions:
Eat soft foods.
Use warm, moist towels over the joint area.
Take aspirin or an aspirin substitute for pain.
Avoid talking, chewing and clenching as much as possible!
Be sure to call your dentist for attention. This type of pain requires treatment, which should not be delayed. These symptoms can worsen.
BROKEN ORTHODONTIC APPLIANCE?
If this should happen to you, place a ball of wax over the broken and/or jagged wires to prevent stabbing the inside of your mouth. Your pharmacist often has this type of wax for these types of emergencies. Call you orthodontist for immediate assistance.
COLD SORES BOTHERING YOU?
Cold sores are symptoms of a virus and can be awfully painful. As with any virus, these sores run their course in about 7 to 10 days. If these sores appear on or about your lips, keep them moist with some petroleum jelly. Your dentist will be able to help with a new prescription drug especially for these sores. If the sores aren't gone within 7 to 10 days, or worsen, call your dentist!
HELP FOR TEETHING PAIN
Teething can be a difficult time for babies and mommies! If your child seems to be uncomfortable, apply some Ora-jel to the area where the tooth is erupting. This gel is pleasantly flavored and can be applied directly to the problem area. Time cures this problem, so be patient!
HELP - MY TOOTH GOT KNOCKED OUT!
First, find the tooth. Immediately after, call your dentist. Then wrap the tooth in clean wet gauze. It's important not to clean the tooth. Cleaning can damage the attachments on the tooth. Success is greatest if you see your dentist within thirty minutes after the accident. The longer you wait, the less possibility of success! Get to your dentist quickly!
We are proud of the ways in which dentistry can restore broken or decayed teeth to full beauty and function. One of the easiest and least expensive ways of doing this is with dental bonding.
Bonding uses tooth-colored materials to replace missing tooth structure or hide cosmetically unappealing minor defects in a tooth — chips, discoloration, and even minor spacing irregularities. Bonding materials are called "composite resins" because they contain a mixture of plastic and glass, which adds strength and translucency. The composite actually bonds, or becomes one, with the rest of the tooth.
Composite resins come in a variety of tooth shades for truly lifelike results. When bonding is done with a skilled hand and an artistic eye, it may be impossible to distinguish the bonded tooth from its neighbors. Though bonding will not last as long as a dental veneer, it also does not require the involvement of a dental laboratory and, most often, can be done without drilling of the tooth. It's a particularly good solution for teens, who often need to wait until their teeth have finished maturing before choosing a more permanent type of dental restoration.
The Bonding Process
Because it does not involve dental laboratory work, tooth bonding can usually be accomplished in a single visit to the dental office. Expect the whole procedure to take 30 minutes to an hour. First, the surface of the tooth to be bonded will be cleaned so it is plaque-free. The surface will then need to be "etched" with an acidic gel that opens up tiny pores in the surface. After the etching gel is rinsed off, the liquid composite resin in a well-matched shade is painted on in a thin layer, filling these tiny pores to create a strong micromechanical bond. A special curing light is used to harden this bonding material. Once the first layer is cured, another layer is painted on and cured. Layers can continue to be built up until the restoration has the necessary thickness. The bonding material is then shaped using a dental drill to give it just the right form. Once the tooth not only looks great but fits in perfectly with your bite, it will receive a final polishing.
Caring for Bonded Teeth
Bonded teeth should be brushed and flossed daily, and professionally cleaned at the dental office twice per year, just the same as the rest of your teeth. The most important thing to keep in mind about caring for your bonded tooth is that composite resin can absorb stain, just as natural teeth can. Therefore, you will want to avoid smoking, red wine, coffee and tea to the extent possible. Also, while composite can darken, it cannot be lightened. So if you are thinking about having your teeth whitened, it should be done before your tooth is bonded so that a composite shade can be selected to match the lighter color of your whitened teeth. If you whiten your teeth after bonding, the bonded tooth may not match all the rest. Finally, try not to bite your nails, hold writing implements in your mouth, or use your teeth in other ways that could put excessive force on the bonding material and chip it. With proper care, a bonded tooth should stay beautiful for 3 to 10 years.
Related Articles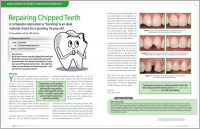 Repairing Chipped Teeth A composite restoration or "bonding" is an ideal material choice for a growing teenager. Composites can be made in a wide range of tooth colors allowing for near perfect color matching with existing teeth — in artistic hands they can be made to look very natural and lifelike... Read Article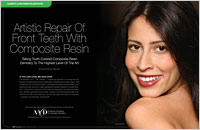 Artistic Repair of Front Teeth With Composite Resin Cosmetic dentistry is about creating invisible art — recreating teeth that look totally natural so that no one can tell the difference! It involves a detailed understanding of natural tooth composition and form, choosing the right composite resin to rebuild and restore lost tooth structure, and understanding light and color. Oh, and a dental artist who can put them all together... Read Article