Online Dental Education Library
This section of our Web site will provide our patients with information they can use before and after their treatment. Right now, if you have a dental emergency or oral concern, review our suggestions and then call us at 908-874-4555. After hours emergency phone numbers are available on our phone system.
When Dental Emergencies and other oral problems occur...
Smiling, kissing, and eating... These are some of the wonderful things for which we need our mouths and teeth! Of course, keeping our mouths and teeth clean and healthy is a major concern, but emergencies can arise. Here are some first aid tips to use before you can get some relief from your DENTIST!
TOOTHACHE HELP
Hopefully this won't ever happen to you, but if it does follow these tips:
Call your dentist as soon as possible for an appointment.
Apply oil of cloves to the affected tooth. You can ask you pharmacist for this.
Apply ice to the affected area.
Take aspirin or an aspirin substitute to ease the pain.
The best treatment is to let your dentist help you right away. Teeth don't heal themselves. Sometimes a person will have a toothache for 2-3 days and it will "go-away". Don't be fooled! The problem is still there. Remember seeing your dentist early can prevent pain, expense and maybe tooth loss!
LOST FILLING?
See your dentist as soon as you can. Why? The soft inner part of the tooth exposed when a filling is lost can decay quickly! If you can't see a dentist right away, be sure to keep the tooth super clean. If pain should develop, try some aspirin or an aspirin substitute until you see your dentist.
OOPS - A BROKEN TOOTH!
Most often, a broken tooth is a result of a blow to the face or from chomping on especially hard foods. If you happen to break a tooth, don't panic! See a dentist as soon as possible and if the tooth hurts, take some aspirin or an aspirin substitute. Hot or cold foods and drinks can aggravate the tooth so do avoid them. A broken tooth can be scary and even embarrassing! Get to a dentist quickly.
WHAT'S CAUSING THE SWELLING?
Swelling can mean many things. Usually, it means a nasty infection. Immediate professional attention is very important. Call your dentist right away!
OUCH - A DENTURE SORE SPOT!
Your dentist can usually relieve the cause of irritation quite easily. Adjustments after fitting dentures are very common! Until then, a little Ora-base applied to the spot will serve as a bandage if the area is really sore. If your dentures are old and loose, for your sake, don't try to reline them yourself or use denture adhesives. This can make matters worse, so see your dentist for any denture problem!
OH NO, YOUR CROWN (OR BRIDGE) FELL OFF!
First, check the crown or bridge to see if it's in one piece. If it is, place a thin coat of petroleum jelly inside the crown or bridge. Then, carefully press it back in place. It is important to keep the teeth in their proper position by replacing the crown or bridge immediately. Do not chew on the replaced crown or bridges as it may come off again. This is only a temporary solution. Be sure to call your dentist as soon as you can to have the crown or bridge examined and re-cemented.
DO YOU HAVE PAIN AROUND YOUR JAW JOINT?
This pain is often related to your teeth. If you are bothered by jaw joint pain, try these temporary solutions:
Eat soft foods.
Use warm, moist towels over the joint area.
Take aspirin or an aspirin substitute for pain.
Avoid talking, chewing and clenching as much as possible!
Be sure to call your dentist for attention. This type of pain requires treatment, which should not be delayed. These symptoms can worsen.
BROKEN ORTHODONTIC APPLIANCE?
If this should happen to you, place a ball of wax over the broken and/or jagged wires to prevent stabbing the inside of your mouth. Your pharmacist often has this type of wax for these types of emergencies. Call you orthodontist for immediate assistance.
COLD SORES BOTHERING YOU?
Cold sores are symptoms of a virus and can be awfully painful. As with any virus, these sores run their course in about 7 to 10 days. If these sores appear on or about your lips, keep them moist with some petroleum jelly. Your dentist will be able to help with a new prescription drug especially for these sores. If the sores aren't gone within 7 to 10 days, or worsen, call your dentist!
HELP FOR TEETHING PAIN
Teething can be a difficult time for babies and mommies! If your child seems to be uncomfortable, apply some Ora-jel to the area where the tooth is erupting. This gel is pleasantly flavored and can be applied directly to the problem area. Time cures this problem, so be patient!
HELP - MY TOOTH GOT KNOCKED OUT!
First, find the tooth. Immediately after, call your dentist. Then wrap the tooth in clean wet gauze. It's important not to clean the tooth. Cleaning can damage the attachments on the tooth. Success is greatest if you see your dentist within thirty minutes after the accident. The longer you wait, the less possibility of success! Get to your dentist quickly!
Of all the ways modern dentistry has to replace missing teeth, dental implants are by far the best. There is no tooth-replacement option that will give you a longer-lasting result. Implants also help preserve tooth-supporting bone that naturally deteriorates when a tooth is lost. Loss of bone is one of the major hidden consequences of losing teeth.
A dental implant most often takes the form of a small, screw-shaped titanium post that replaces the root-part of a missing tooth. The surgical procedure used to place an implant is actually quite minor and routine, requiring only local anesthesia in most cases. After a healing period, the implant is topped with a lifelike crown custom-made to match your existing natural teeth. Implants have a documented success rate of over 95%, which is significantly higher than any other tooth-replacement option.
How Implants Work
During a minor surgical procedure done in the dental office, your dental implant is inserted directly into the jawbone in the space vacated by the missing tooth. We schedule about 45 minutes to an hour to place one implant but much less time is required for additional implants. Initially, time is spent reviewing medical history, taking your blood pressure and providing you with the proper anesthesia. Any postoperative discomfort can normally be managed with over-the-counter pain relievers. Your implant will then be left to heal for a period of months before the final crown is attached. During this healing period, the implant actually fuses to the bone surrounding it. We use implants made by the BioHorizons company because of the technological innovations they have made to ensure the best possible healing, success rate and final result. Learn more about how dental implants work.
Dental Implant Treatment Options
You'll be amazed to learn more about the variety of ways dental implants can be used to replace one tooth, multiple teeth or even all teeth in your mouth. Implants are so strong, they can support bridgework or a fixed denture, meaning a full row of teeth (top or bottom) can be anchored by as few as four implants. And as few as two implants can be used to stabilize a lower removable denture so it won't slip while you're eating or speaking. Learn more about your dental implant treatment options.
Immediate Implants
If you need to have failing teeth removed, we may be able to place dental implants into the tooth sockets immediately after removing the teeth if circumstances allow. This has some definite advantages — the major one being that you will need just one surgical procedure rather than two. Depending on how many implants you received and where they are in your mouth, we also may even be able to give you a temporary dental crown or a set of temporary teeth to wear during this healing phase. That way, you will not only walk out of the dental office with new implants, but possibly new teeth as well! But please be assured that we will not rush anything; if your unique situation requires us to allow more healing time and to finish your new teeth in stages, that is what we will do. Learn more about immediate implants.
Computer-Guided Implant Surgery
Computer-guided implant surgery can result in a shorter implant-placement procedure with minimal discomfort and a very precise result. A three-dimensional CT (computed tomography) scan of your jaw is used to create a template that resembles a nightguard or athletic mouthguard with holes in the plastic where the implants will go. This template is securely (but temporarily) fixed in position on the jaw to provide a precise guide for the placement of the implants. Since so much has been worked out in the planning stages, computer-guided implant surgery is typically uneventful for the patient and very predictably achieves the desired result. Learn more about computer-guided implant surgery.
Implant Care and Maintenance
There are only two ways an implant can lose attachment to the bone and fail once it has successfully fused: poor oral hygiene or excessive biting forces. Poor oral hygiene and/or a lack of regular cleanings can lead to a destructive bacterial infection called peri-implantitis. Flossing and brushing your teeth on a daily basis, along with regular professional cleanings, can prevent this. Excessive biting forces can come from either a habit of clenching or grinding your teeth, or an insufficient number of implants to handle the forces generated by your bite. We will make sure you receive the correct number of implants so this does not happen. And if you have a habit of grinding or clenching your teeth, we will recommend wearing a nightguard to protect your implants. After all, implants are a long-term investment in your smile, your health and your well-being, so let's do our best to protect your investment.
Learn more by reading frequently asked questions about dental implants.
Related Articles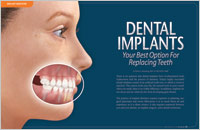 Dental Implants – Your Best Option For Replacing Teeth Dental implants have many advantages over older methods of tooth replacement like bridges and dentures — from the way they function and feel to the way they look and last. Vigorous research has documented and confirmed that in the right situations, dental implant success rates are over 95%. It is no exaggeration to say that they have revolutionized dentistry. They may even change your life... Read Article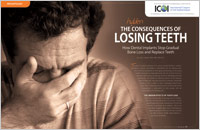 The Hidden Consequences of Losing Teeth For those missing even one tooth, an unsightly gap is actually the least significant problem. What's of far greater concern is the bone loss that inevitably follows tooth loss. Dental implants can preserve bone, improve function and enhance psychological well-being. Learn how implants serve both as anchors to support replacement teeth and preserve bone... Read Article