Online Dental Education Library
This section of our Web site will provide our patients with information they can use before and after their treatment. Right now, if you have a dental emergency or oral concern, review our suggestions and then call us at 908-874-4555. After hours emergency phone numbers are available on our phone system.
When Dental Emergencies and other oral problems occur...
Smiling, kissing, and eating... These are some of the wonderful things for which we need our mouths and teeth! Of course, keeping our mouths and teeth clean and healthy is a major concern, but emergencies can arise. Here are some first aid tips to use before you can get some relief from your DENTIST!
TOOTHACHE HELP
Hopefully this won't ever happen to you, but if it does follow these tips:
Call your dentist as soon as possible for an appointment.
Apply oil of cloves to the affected tooth. You can ask you pharmacist for this.
Apply ice to the affected area.
Take aspirin or an aspirin substitute to ease the pain.
The best treatment is to let your dentist help you right away. Teeth don't heal themselves. Sometimes a person will have a toothache for 2-3 days and it will "go-away". Don't be fooled! The problem is still there. Remember seeing your dentist early can prevent pain, expense and maybe tooth loss!
LOST FILLING?
See your dentist as soon as you can. Why? The soft inner part of the tooth exposed when a filling is lost can decay quickly! If you can't see a dentist right away, be sure to keep the tooth super clean. If pain should develop, try some aspirin or an aspirin substitute until you see your dentist.
OOPS - A BROKEN TOOTH!
Most often, a broken tooth is a result of a blow to the face or from chomping on especially hard foods. If you happen to break a tooth, don't panic! See a dentist as soon as possible and if the tooth hurts, take some aspirin or an aspirin substitute. Hot or cold foods and drinks can aggravate the tooth so do avoid them. A broken tooth can be scary and even embarrassing! Get to a dentist quickly.
WHAT'S CAUSING THE SWELLING?
Swelling can mean many things. Usually, it means a nasty infection. Immediate professional attention is very important. Call your dentist right away!
OUCH - A DENTURE SORE SPOT!
Your dentist can usually relieve the cause of irritation quite easily. Adjustments after fitting dentures are very common! Until then, a little Ora-base applied to the spot will serve as a bandage if the area is really sore. If your dentures are old and loose, for your sake, don't try to reline them yourself or use denture adhesives. This can make matters worse, so see your dentist for any denture problem!
OH NO, YOUR CROWN (OR BRIDGE) FELL OFF!
First, check the crown or bridge to see if it's in one piece. If it is, place a thin coat of petroleum jelly inside the crown or bridge. Then, carefully press it back in place. It is important to keep the teeth in their proper position by replacing the crown or bridge immediately. Do not chew on the replaced crown or bridges as it may come off again. This is only a temporary solution. Be sure to call your dentist as soon as you can to have the crown or bridge examined and re-cemented.
DO YOU HAVE PAIN AROUND YOUR JAW JOINT?
This pain is often related to your teeth. If you are bothered by jaw joint pain, try these temporary solutions:
Eat soft foods.
Use warm, moist towels over the joint area.
Take aspirin or an aspirin substitute for pain.
Avoid talking, chewing and clenching as much as possible!
Be sure to call your dentist for attention. This type of pain requires treatment, which should not be delayed. These symptoms can worsen.
BROKEN ORTHODONTIC APPLIANCE?
If this should happen to you, place a ball of wax over the broken and/or jagged wires to prevent stabbing the inside of your mouth. Your pharmacist often has this type of wax for these types of emergencies. Call you orthodontist for immediate assistance.
COLD SORES BOTHERING YOU?
Cold sores are symptoms of a virus and can be awfully painful. As with any virus, these sores run their course in about 7 to 10 days. If these sores appear on or about your lips, keep them moist with some petroleum jelly. Your dentist will be able to help with a new prescription drug especially for these sores. If the sores aren't gone within 7 to 10 days, or worsen, call your dentist!
HELP FOR TEETHING PAIN
Teething can be a difficult time for babies and mommies! If your child seems to be uncomfortable, apply some Ora-jel to the area where the tooth is erupting. This gel is pleasantly flavored and can be applied directly to the problem area. Time cures this problem, so be patient!
HELP - MY TOOTH GOT KNOCKED OUT!
First, find the tooth. Immediately after, call your dentist. Then wrap the tooth in clean wet gauze. It's important not to clean the tooth. Cleaning can damage the attachments on the tooth. Success is greatest if you see your dentist within thirty minutes after the accident. The longer you wait, the less possibility of success! Get to your dentist quickly!
Cancer is a scary word, but the more you know about it, the better able you will be to protect yourself and the ones you love. This is particularly true of oral cancer, which is very treatable if caught early. Unfortunately, about two-thirds of oral cancers are not caught until the late stages. You may think that if you are a non-smoker, particularly a young one, this topic is not of concern to you. If so, please think again.
While most oral cancer patients are smokers, the fastest-growing segment of newly diagnosed cases is young, non-smoking adults. The culprit is a particular strain of the Human Papilloma Virus (HPV). HPV is the most common sexually transmitted disease in the U.S., with about 20 million Americans infected. In fact, it is estimated that at least half of all sexually active people will contract it during their lives. Most strains (and there are over 100) lead to symptoms no more serious than warts, and in many cases a person's own immune system can rid the body of the disease within two years. The strain known as HPV16, unfortunately, is different. By inserting its own DNA into human cells, the virus can cause a mutation that turns normal cells into malignant ones. You may already be aware that HPV16 has been linked to cervical cancer. We now know it is also responsible for many new cases of oral cancer.
Signs & Symptoms
Most of the lumps, bumps, and occasional sores you find in and around your mouth are completely harmless. But you should look out for changes such as white or red patches, ulcers and lumps anywhere in and around your face and neck that persist for more than a couple of weeks. A persistent sore throat or hoarseness is also cause for concern. Most oral cancers are "squamous" (scale-shaped) cell carcinomas. The sides of the tongue are the most common sites for these small lesions. Because the tongue has a rich blood supply and a direct connection to the lymphatic system (a part of our immune system), it's a site from which cancer can easily spread. The floor of the mouth under the tongue is the second most common site. Cancerous lesions on the lower lip, which are usually preceded by chronic sun exposure, are not uncommon.
Diagnosis & Treatment
Regular screening for oral cancer is one of the most important services provided to you at the dental office. Your regular dental checkup includes a visual and tactile (touch) examination for any signs of oral cancer or precancerous lesions in and around your mouth and throat. Anything that looks suspicious, may be analyzed with a routine procedure called a biopsy, in which a small amount of the suspicious tissue is sent to a laboratory for microscopic inspection. This is the best way to get a definitive diagnosis. Should the lesion turn out to be cancerous, the rest of the malignant tissue will be removed. It's possible that radiation and/or chemotherapy will be needed to eradicate the disease. As mentioned before, when treatment occurs early, the survival rates are excellent.
Prevention
There are lifestyle choices you can make to reduce your risk considerably. Giving up tobacco in all forms, along with alcohol are big ones. Avoiding risky sexual behavior is also important. Protect yourself from overexposure to the sun, and eat a healthy diet. Research has consistently found that a high intake of fruits and vegetables is protective against oral and throat cancer; a good diet will also bolster your immune system. And please remember to schedule regular checkups here at the dental office. An oral cancer screening takes just a few minutes, but it could save your life.
Related Articles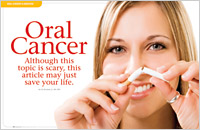 Oral Cancer This article may just save your life. Learn how to notice any unusual lesions (sores or ulcers) anywhere in your mouth that do not heal within two-three weeks. Early detection is key... Read Article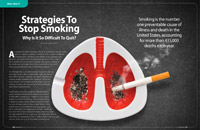 Strategies To Stop Smoking Cigarette smoking is the number one preventable cause of illness and death. Quitting smoking could prevent a large number of diseases and deaths each year. Many smokers find it difficult to stop, a fact that is confirmed by the staggering rate of relapse. Given the fact that cigarette smoking is a learned behavior that is reinforced over time, it makes sense that to be successful in quitting, you must "unlearn" this behavior. Here are some suggested ways to learn how... Read Article