Online Dental Education Library
This section of our Web site will provide our patients with information they can use before and after their treatment. Right now, if you have a dental emergency or oral concern, review our suggestions and then call us at 908-874-4555. After hours emergency phone numbers are available on our phone system.
When Dental Emergencies and other oral problems occur...
Smiling, kissing, and eating... These are some of the wonderful things for which we need our mouths and teeth! Of course, keeping our mouths and teeth clean and healthy is a major concern, but emergencies can arise. Here are some first aid tips to use before you can get some relief from your DENTIST!
TOOTHACHE HELP
Hopefully this won't ever happen to you, but if it does follow these tips:
Call your dentist as soon as possible for an appointment.
Apply oil of cloves to the affected tooth. You can ask you pharmacist for this.
Apply ice to the affected area.
Take aspirin or an aspirin substitute to ease the pain.
The best treatment is to let your dentist help you right away. Teeth don't heal themselves. Sometimes a person will have a toothache for 2-3 days and it will "go-away". Don't be fooled! The problem is still there. Remember seeing your dentist early can prevent pain, expense and maybe tooth loss!
LOST FILLING?
See your dentist as soon as you can. Why? The soft inner part of the tooth exposed when a filling is lost can decay quickly! If you can't see a dentist right away, be sure to keep the tooth super clean. If pain should develop, try some aspirin or an aspirin substitute until you see your dentist.
OOPS - A BROKEN TOOTH!
Most often, a broken tooth is a result of a blow to the face or from chomping on especially hard foods. If you happen to break a tooth, don't panic! See a dentist as soon as possible and if the tooth hurts, take some aspirin or an aspirin substitute. Hot or cold foods and drinks can aggravate the tooth so do avoid them. A broken tooth can be scary and even embarrassing! Get to a dentist quickly.
WHAT'S CAUSING THE SWELLING?
Swelling can mean many things. Usually, it means a nasty infection. Immediate professional attention is very important. Call your dentist right away!
OUCH - A DENTURE SORE SPOT!
Your dentist can usually relieve the cause of irritation quite easily. Adjustments after fitting dentures are very common! Until then, a little Ora-base applied to the spot will serve as a bandage if the area is really sore. If your dentures are old and loose, for your sake, don't try to reline them yourself or use denture adhesives. This can make matters worse, so see your dentist for any denture problem!
OH NO, YOUR CROWN (OR BRIDGE) FELL OFF!
First, check the crown or bridge to see if it's in one piece. If it is, place a thin coat of petroleum jelly inside the crown or bridge. Then, carefully press it back in place. It is important to keep the teeth in their proper position by replacing the crown or bridge immediately. Do not chew on the replaced crown or bridges as it may come off again. This is only a temporary solution. Be sure to call your dentist as soon as you can to have the crown or bridge examined and re-cemented.
DO YOU HAVE PAIN AROUND YOUR JAW JOINT?
This pain is often related to your teeth. If you are bothered by jaw joint pain, try these temporary solutions:
Eat soft foods.
Use warm, moist towels over the joint area.
Take aspirin or an aspirin substitute for pain.
Avoid talking, chewing and clenching as much as possible!
Be sure to call your dentist for attention. This type of pain requires treatment, which should not be delayed. These symptoms can worsen.
BROKEN ORTHODONTIC APPLIANCE?
If this should happen to you, place a ball of wax over the broken and/or jagged wires to prevent stabbing the inside of your mouth. Your pharmacist often has this type of wax for these types of emergencies. Call you orthodontist for immediate assistance.
COLD SORES BOTHERING YOU?
Cold sores are symptoms of a virus and can be awfully painful. As with any virus, these sores run their course in about 7 to 10 days. If these sores appear on or about your lips, keep them moist with some petroleum jelly. Your dentist will be able to help with a new prescription drug especially for these sores. If the sores aren't gone within 7 to 10 days, or worsen, call your dentist!
HELP FOR TEETHING PAIN
Teething can be a difficult time for babies and mommies! If your child seems to be uncomfortable, apply some Ora-jel to the area where the tooth is erupting. This gel is pleasantly flavored and can be applied directly to the problem area. Time cures this problem, so be patient!
HELP - MY TOOTH GOT KNOCKED OUT!
First, find the tooth. Immediately after, call your dentist. Then wrap the tooth in clean wet gauze. It's important not to clean the tooth. Cleaning can damage the attachments on the tooth. Success is greatest if you see your dentist within thirty minutes after the accident. The longer you wait, the less possibility of success! Get to your dentist quickly!
They are inside your laptop computer and your DVD player, present on the factory floor and the supermarket checkout line. And now, lasers are finding increasing use in dentistry. Someday soon, you may have a routine dental procedure performed with the aid of a powerful, yet highly controllable beam of laser light, instead of a drill or a probe.
What are dentists currently using lasers for? These devices have been proven to help in the detection and treatment of oral diseases. They can be used for treating gum disease, detecting cancer, and pinpointing tooth decay in its early stages. They can precisely remove tissue, seal painful ulcerations like canker sores, and even treat small cavities. In the future, dental laser technology will undoubtedly find even more applications.
How Do Lasers Work?
Lasers take advantage of the quantum behavior of electrons, tiny particles inside atoms. By stimulating atoms with pulses of energy, and then using a method of optical amplification, they cause the atoms to produce a beam of coherent light. Essentially, that means that they emit light which has a great deal of energy, yet can be precisely controlled. It's the combination of high energy and precision that make lasers so useful.
Where Are Lasers Being Used?
At present, the use of lasers in dentistry falls into three general categories: disease detection, soft tissue treatments, and hard tissue treatments.
There are many ways lasers can aid in diagnosis. Laser light of specific wavelength, for example, can detect tiny pits and fissures in the biting surfaces of the tooth that a traditional dental tool can't find. This enables a defect that's too small to be treated at present to be carefully monitored. Lasers can also help locate dental calculus (tartar) beneath the surface of the gums, and can even aid in the detection of oral cancer in its early stages, accurately showing where healthy tissue ends and diseased tissue begins.
For the treatment of soft tissue problems, lasers have many advantages. They are minimally invasive tools that generally involve taking away less tissue than conventional methods. Used in gum surgery, for example, lasers can treat gum disease by killing harmful bacteria deep in pockets below the gum line, and removing the diseased tissue without harming the healthy tissue. They can also remove the thin layer of cells that inhibits reattachment of the gum and bone tissues to the tooth, while sealing off the adjacent blood vessels. This type of procedure generally results in less bleeding and pain. Lasers are also effective in treating ulcers and sores on the lips or gums.
Lasers are even finding increasing use for hard-tissue procedures, like the treatment of dental caries and cavities. Not only are they more exact in the amount of material they remove, but they eliminate the noise and vibration of the dental drill, which is uncomfortable for some patients.
As lasers become more common in the dental office, these high-tech tools will be integrated into routine dental practice. This promising technology already offers some real benefits, and is sure to find increasing use in the near future.
Related Articles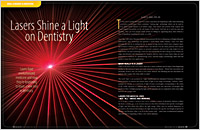 Lasers Shine a Light on Dentistry Lasers have revolutionized medicine and now they're beginning to blaze a new trail in dentistry. Today, at the dawn of the 21st century there are a variety of dental uses for lasers, from diagnosing cavities and the removal of gum and tooth structure to the treatment of disease... Read Article