Towne Centre Family Dental raises $5K for Gigi's Playhouse of Hillsborough
By: Community Bulletin
Pictured (from left) in the front row (from left) are Marta Chludzinska, Merlinda Antes, Amanda Cathcart, Courtney Monteiro and Dr. Naina Kaushal. Center row (from left) are Dr. Lauren Psillos, Melissa Weinstein, Liz Kepniss, Site Coordinator of GiGi's Playhouse Hillsborough, and Chris Bove, Intern and Program Participant at Gigi's Playhouse Hillsborough. Back row are Colin McMullen, Board Member at Gigi's Playhouse Hillsborough, Jennifer Ciantar, Jaime Romanak, Nancy Alfaro, Dr. Albert Internoscia, Amy Belton and Megan Kreider. (courtesy photo)
Wouldn't it be wonderful if just a simple smile could change the world? In Hillsborough on Thursday, Towne Centre Family Dental helped Gigi's Playhouse of Hillsborough do exactly that.
Dr. Albert Internoscia and his staff gathered at the newly opened, expanded location for Gigi's Playhouse, a Down Syndrome achievement center on a mission to empower and celebrate individuals with Down Syndrome and their families, to present them with a $5,000 donation.
From the months of March to June, Towne Centre Family Dental participated in Smiles for Life, a charitable organization comprised of hundreds of dental practices throughout the U.S. and Canada who professionally whiten teeth to raise money for disabled and underprivileged children in their local communities and around the world.
The staff at Towne Centre Family Dental donated their time, supplies and one hundred percent of proceeds to Smiles for Life, raising approximately $10,000, and donated half of those proceeds to Gigi's Playhouse to help aid in their growing programs and community outreach. The other half of the proceeds raised was donated to national charities that aid ill or underprivileged children.
"We are excited to support this community of volunteers whose mission it is to maximize self-confidence and empower individuals to achieve their greatest potential. I would like to thank my staff for embracing the Smiles for Life Campaign and our corporate sponsor Ultradent, who donated all the whitening supplies. Together, we are happy to present this $5,000 donation to keep GiGi's Playhouse moving forward," said Dr. Albert Internoscia.
Since Gigi's opened in January of 2015, over three hundred families have become a part of their community, and over 2,000 volunteer hours have been donated to run the twenty five programs dedicated to raising awareness. On Sept. 24, they celebrated the grand opening of their new location in Hillsborough, a necessary move for the center as it had outgrown its previous space.
"We are grateful to Towne Centre Family Dentil for their support!" said Liz Kepniss, Site Coordinator at Gigi's Playhouse Hillsborough. "Their donation will help us continue to fund free educational and therapeutic programs for individuals of all age with Down syndrome."
Article Taken From the nj.com
---


STAFF PHOTOS BY MATTHEW APGAR
Marie Escamilla, 9, of Hillsborough gets free dental care from Dr. Albert Internoscia, right, and dental assistant and translator Allen Lopez, left, on Friday at Towne Center Family Dental on Route 206 for Give Kids a Smile Day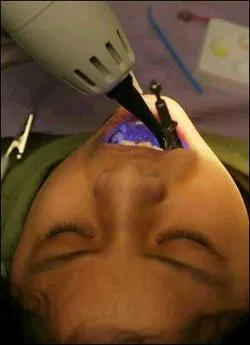 Marie has one of her 16 cavities filled Friday. Internoscia worked on six of the cavities and performed two root canals during her visit.
Free dental care brings smile to childrens' faces
By PAMELA SROKA
Staff Writer
HILLSBOROUGH -- More than 40 children had something to smile about Friday after Towne Centre Family Dental brightened their teeth for free.
The dental facility on Route 206 offered its third annual "Give Kids a Smile Day," which was started nationally by the American Dental Association in 2002.
Last year, the dental facility offered $25,000 worth of services to needy children, most living in Hillsborough and Manville, free of charge. The dental office hoped to meet or exceed the same goal this year.
The facility's three dentists, Albert Internoscia, Lauren Psillos and Dawn DiGrazia, three hygienists, three clinical assistants and two office staff members volunteered their time and services from 8 a.m. to 4 p.m. Friday for the cause.
"We just try to take care as much as we can," Internoscia said. "We try to make it a good day for the kids."
Internoscia said parents learned about the event through school handouts and at businesses with the help from the township's Economic and Business and Development Commission. He added the children would normally get dental care only if in pain, and it likely would be at a Medicaid clinic in Somerville or Manville.
While staring up at cartoons on a flatscreen TV, Maria Escamilla, 9, a fourth-grader at Hillsborough Elementary School, braved the filling of six cavities and two root canals. Allen Lopez of Weehawken, a dental assistant, asked the youngster how she was feeling between drilling performed by Internoscia.
"Wow, this is really great," said her sister, Mariana Escamilla, 19, a 2005 Hillsborough High School graduate. "I thought maybe she would get a free cleaning, but they're doing her cavities now. They're giving their own time for people who really need dental care."
Robin Redling of Manville said she couldn't believe the news when she heard her son, Blair, 5, would be receiving a free cleaning.
"I think it's great," she said. "My first thought was I didn't believe it."
Internoscia said each child would also be leaving with a pink balloon and a dental hygiene kit donated by Crest complete with brushing booklet, toothpaste and a toothbrush.
"This may be the first time to the dentist for some of these kids and we welcome the opportunity to make a difference in their life," he said.
In addition to "Give Kids a Smile Day," the dental office also will be visiting kindergarten and preschool children in Manville and Hillsborough throughout February to teach the children about proper brushing habits. Those children also will be receiving goody bags in celebration of "Children's Dental Health Month."
"We're trying to teach them that going to the dentist is fun, and they shouldn't have any fears," Internoscia said.
Towne Centre Family Dental was joined by about 40,000 dental professionals and volunteers nationwide in providing free educational, preventive and restorative dental services to children from low income families at 2,000 locations across the country, according to the American Dental Association.
Article Taken From the Courier News website www.c-n.com .