Your First Visit
Your first visit is scheduled with a dentist at a convenient time for you and is always friendly, relaxed and enjoyable. Adults usually first meet with the dentist so that they have an opportunity to discuss any specific needs, wants or concerns. We strive to help eliminate any fears that our patients may have. We respect everyone and only ask the same in return. Our patients know that we never judge someone by their current dental condition. People come to see us for the first time for one of the following reasons:
1. Dental Emergency – it could be a painful or broken tooth. Whatever the emergency, we strive for Same-Day Emergency Care and do it painlessly!
2. Free Consultation – many of our loyal patients first came in for a second opinion or consultation about replacing some missing teeth or info on how they can improve their smile. This is a great way to meet us and see if one of our experienced 5-star dentists can be of help.
3. Cleaning and Check-up – with 5 full-time hygienists on staff, families love our easy scheduling. We have dynamic scheduling to meet peak demands during school holidays and breaks. We use a co-discovery approach to your exam will use an intraoral camera and digital x-rays to show you what the dentist sees. Most of our patients become engaged in their care and participate in their diagnosis.
Our Team Approach
Our team approach centers around you - the patient. Your dentist will sit with you in our comfortable private consult room and if needed will review your photos and x-rays on our 62" TV. The goal is always to take care of your needs and to make complex things simple by listening and explaining. If needed we involve the hygienists and on-site dental specialists to collaborate on a treatment plan that best fits your budget and satisfies your needs. We can often complete full mouth reconstructions in only a few visits or we can phase treatment over time to fit most budgets.
Advanced Technology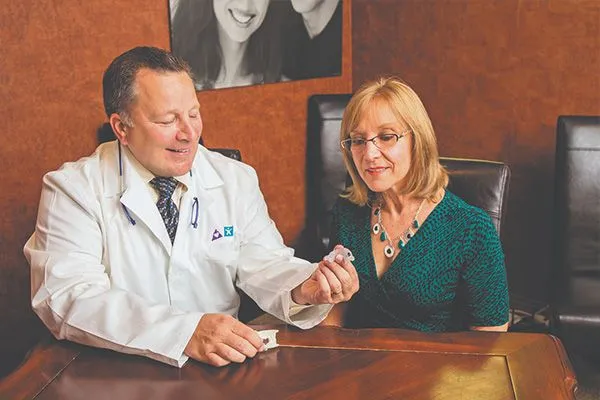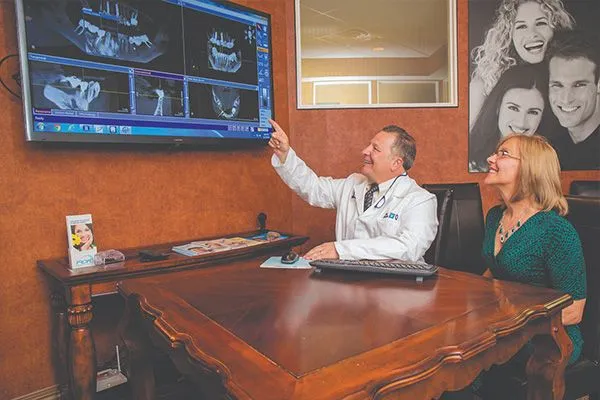 Rather than provide a list of all the advanced technologies that our office uses, we would rather discuss for a moment how it all benefits you. Our goal is to bring in technologies that have a positive impact on our patients' care. If you have made an appointment, you have already experienced our Text and E-mail reminder service that you can customize for your preferences. Many of our patients schedule appointments through Facebook, LocalMed, or other online portals. Clinically, TCFD has always been at the forefront of technology. At the annual meeting of New Jersey dentists in Atlantic City, Dr. Al Internoscia presented a clinic on "How Dentists can Implement Technology in their Practices". He was one of the first dentists in the tri-state area to use Digital X-rays because he saw the benefit of reduced radiation and improved diagnosis. The dentists at TCFD use a digital impression technology (Trios) that eliminates gagging on impressions and the accuracy and fit of our restorations is greatly improved. We use a 3D Cone Beam x-ray (Sirona XG-3D) that helps improve the quality of care and accuracy of our implant surgeries & restorations. All of these technologies are not commonly found in the average dental practice. By pooling our resources we have been able to equip TCFD with the very best technologies for the benefit of our patients.
Flexible Payment Options
Patients have many options to choose from for amounts over $2,000:
1. SAVE MONEY. Payment in full prior to treatment with check or cash is 5% off. Credit card is 3% off.
2. Interest Free Payments. Available for 6-24 months depending on credit rating and amount financed. This is through our partnership with Greensky patient financing and Carecredit.
3. Low Monthly Payments. Easy approvals. No money down.
Insurance Plans Accepted
Your insurance claim forms are handled electronically so that the insurance checks can be credited to your account faster. We accept assignment of benefits directly from most insurance company and our Insurance Coordinator – Nancy can help you understand your insurance works and will do everything possible to maximize your benefits.
Family Dental Plan